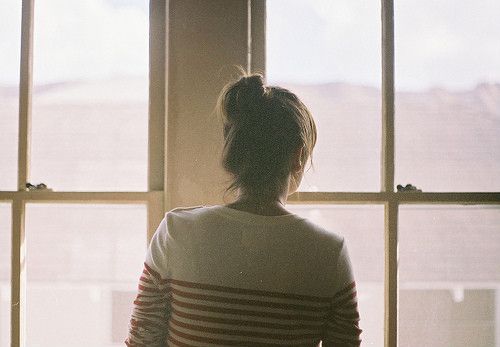 ph: weheartit
i have been working the same retail job for four years, and nothing exciting like this has ever happened. i met him on july 9, 2011. i was working my usual shift, helping no one and wasting my time away folding clothes when the most handsome guy walked through my store doors. he said he really needed help, that he was going to a wedding in an hour (ohh men) and he didn't have anything to wear. i graciously said i would offer help to this adorable guy, helping him choose a shirt and tie for his formal affair. throughout the process, we shamelessly flirted and exchanged simple bits of information with each other. he got my name and i got his. i then steamed his shirt, he paid and left. never asking me for my number, i felt silly and confused at the same time. what did i possibly do wrong? we hit it off so insanely well! nonetheless, i got on with my life and came back the following day for another long shift of folding clothes. this time, i was situated in the back room, counting and tagging merchandise, without exposure to the outside world. all of a sudden one of the girls that works with me came back and said, 'hey, your friend is here to talk to you'. now, i have no friends that stop by my place of work out of the blue, so with a puzzled mind i asked her who it was. she replied that it was the guy that came in yesterday looking for the shirt and tie. my heart stopped, my face grew red and before i knew it i was slinking out onto the sales floor after my prince charming. 'so, i'm assuming you have a boyfriend' that's the first line that came out of his mouth when i greeted him. i quickly replied no, and with a shocked face he preceded to tell me how he felt so stupid for leaving without asking for my number, and thought about me the entire time at this wedding. feeling like a thousand butterflies were fluttering about my stomach, he asked to take me to dinner, and i excitedly gave my number and told him i would love that. it was love at first sight, and i was convinced i found the one.
from here on out, things grew beautifully between us. he called me immediately and asked me to dinner. took me to the most adorable tuscan restaurant, and texted me as soon as i got to my car telling me he had the best time and couldn't wait to do this again. i know it sounds crazy, but after that first date i was head over heels, madly in love with a stranger. he was my soulmate, and i had been searching for him for so long.
within the next month, we had a great time. laughed, kissed, grew to knew each other and our families. everything seemed to be too good to be true. and with that being said, it was. things between him and i moved so quickly it was kind of unreal. within two months, things started to go downhill really fast. he wouldn't commit. he begged me to meet his parents, invited me to a wedding that was two months away, and told me that i was the one he wanted to marry. he said i was so different and so perfect, he cannot believe how lucky he was to find me. but, with all this being said, he did not want me as his girlfriend.
i shrugged it off a couple of weeks, but it soon began to eat me away inside. what was wrong with me? why didn't he want me? what was I doing wrong? i became obsessed with trying to figure out what the issue was, and with him being two years younger than i, and a junior in college, i figured it was just his immature age. he kept telling me things just went too fast, and he needed time to think about what he wanted. i let him give me this excuse for a couple of weeks, and then after two and a half months, and countless tears later, i called it quits. here i was, completely in love, with someone who told me he wanted me forever as his wife, and he didn't want me.
sometimes things work out, and sometimes they don't. maybe his and my timing was just off. because i know what we had was unreal. now, i am just happy to have experienced such a feeling of admiration and love....what i learned was that..wonderful things can end, even quicker than they began.