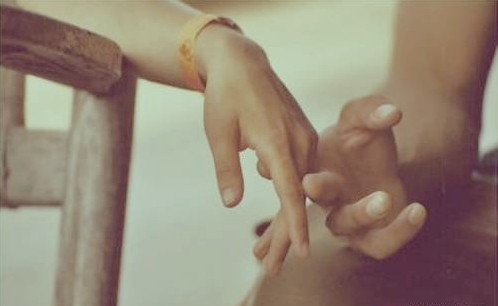 ph:
weheartit
i wanted to let you know how frustrating our situation is for me and that's the safest way i can put it.
hah, see, i can barely put my feelings to words-- rather, i can't put them in a way that you'd be comfortable with. we've had talks like this before, and i always have trouble getting to the point because i know that if i say something too intense or too emotional, you'll shut yourself down. then everything after that would be like talking to a block of ice; you'd be melting away as i speak until there's none of you left. just an empty space. and i hate that about us.
don't get me wrong, every other aspect of whatever-it-is-we-have is fantastic. it's almost like our lives were written out by Sarah Dessen; our relationship is a sappy, teen-romance novel. but that's the thing. it isn't quite that. i mean, it starts out with the cliché: you and i are two totally different people. you are quiet and shy. a man of few words. but, hey, when you start talkin', things start to make sense. you make every word count. you think before you act. i, on the other hand, am loud and friendly. most people say i am the jolliest person they have ever met. i blurt out basically whatever comes to mind, in hopes that nobody will care 'cause they'd be too fixated on my enthusiasm. similarly, i am rather impulsive. so we are completely opposite. but, somehow, we click.
we hang out two to three times every week. we stay on the phone for long periods of time. we send each other silly blurbs and inside jokes through text message. we hold hands. we cuddle. we spoon. kiss. we eat dinner at each other's houses with each other's family. we call each other adorable and cute. we're there when one needs the other the most. we tell each other everything. we're virtually best friends. how generic-couple are we?
the answer is not at all.
if we were a generic couple, we'd be fine right now. i'd be fine right now. sure, we'd have our ups and downs, but like every good Sarah Dessen book, we'd find a way to figure it out. but how can you figure something out if you don't even put any effort to it? we don't acknowledge the problem, let alone try to solve it. you must be thinking, "nothing's wrong. this chick's insane. we're totally fine." see, i used to think so, until now. it's been building up for a year and i can't stand it. i may be insane. i don't know. but here goes:
the problem is that we are not dating.
because you said you don't like me that way. no matter how many times we adventure or chill in each other's houses. no matter how much you hate the phone and still insist on talking on it with me. no matter how hard you try to make me smile on the rare occasions when i'm down. no matter how many times you tell me how smooth my hand is and how it fits perfectly into yours. no matter how much you initiate each embrace, each kiss. no matter how much our parents think we're getting married. no matter how much you stare at me lovingly. no matter how many times you've been there when i've needed a ride home, or am scared, or have had an asthma attack. no matter how much you share with me that you don't share with anyone else. no matter how close we've become. you still say that you. don't. like. me. that. way.
and i don't get it.
because today, i heard you say you love me. clearly. when you thought i wouldn't hear.
and when i asked, you denied it.
the problem is, i don't know where i stand.
the problem is, i don't get why you won't just accept the fact that you might
actually like me.