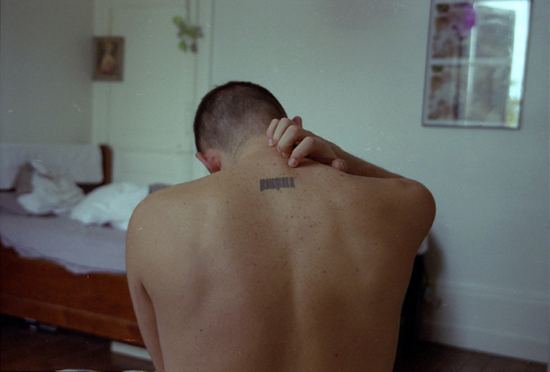 ph:
Mario Leko
So.
Uhm..
How did we end up here?
How could love be so intricate? Unobtainable? Complicated?
This is our story.
I met you thru your best friend. I've been away for a year, sorting things out. Mostly my own life and all the wrong turns I've taken so far. During my absence I had an involuntary period of celibacy so when I finally came home again I was desperate for sex. Within a week I hooked up with 4 different women, trying to satisfy urges that hadn't been satisfied for a year. And so I met Sara. She was the niece of the guy we sublet our apartment in the basement to. She was a troubled girl, she had taken some wrong turns and was now trying to make all the right ones. A woman after my taste.
It didn't bother me that she was 3 years younger than me at the time. Neither did I think for a second that maybe I shouldn't do this, after all, she was the niece of our tenant. I was horny and she was there.
So it happened.
And then it happened again and again. We were extremely secretive about it, the only one's that knew were her friends. We developed a friendship along the way. We used to talk about everything, we took walks, we laughed and shared. And I liked her. A lot. She was funny. She amused me. And no one suspected a thing, we enjoyed our little private secret. But one day I met you. And I knew from the start nothing would be the same. You took my breathe away. From that first moment. I just needed to see you and everything just stopped.
I couldn't stop thinking about you. And I used too hope that you'd come visit her so I could see you, be in your vicinity. It feels so strange now thinking about it. How could you have me caught so quickly? Without even doing anything? But I couldn't do that to Sara. So I tried to stay away when you came to visit- Cause you just don't do that. You just don't dump the girl for her best friend. Try to explain that without getting killed.
Me and Sara continued our strange relationship for a year or so. And I never told you how I felt for you, about you. This blossoming infatuation. This seed of love.
Sara found love. And I can't say that I liked her boyfriend but love is love. And I accepted that our relationship had gone it's course in some ways. We still met when she came by and we continued with our walks. We still talked on the phone and we still enjoyed meeting each other. But there were no more sex. And it was ok, I was fine with it.
I moved from my parents to my own place during this time. And finally you and I started to get a relationship of our own.
We started talking. And talking went on to seeing each other. And I loved every second of it.
You started to come over everyday. We talked, laughed, smiled. I loved every second with you. You started to sleep over. And it was so natural. You and Amanda came for a visit one day. And that night while Amanda was sleeping we had sex for the first time. Turn off all the lights. Light up some candles.
It was all very movie-esque.
I don't remember ever being so content before in my life as those day's with you.
But you found love too. And you went away.
And me and Sara had a fight which in the end lead to us not talking with each other for almost 2 years.
I had a lot of time to think about things. About you. And feelings changed. From just thinking you was an amazing woman to infatuation to love.
I'm in love with you. And I wish it wasn't so.
Time went on. I moved to another apartment. And one day I started to talk with Sara again. And we had sex. Again. You had a boyfriend then. And my heart was burning with agony at the thought of you being with him. And I was longing to met you again. Talk to you again. But the day never came. One day I was on my way home from a friends, just another day. And and on the stop, who do I meet if not you? And I was at a loss for words. And seconds later your boyfriend showed up.
I hated that very second. I wished that it had never occurred.
A couple of months after that I moved to the neighboring country. Sara and I talked sporadically during this period. But I didn't stop thinking of you. A lot of things happen in my life during this period. I became a better person. I loved someone for the first time in my life. I grew personally and emotionally.
In 2008 I decided to celebrate New Years in another country. Me and a couple of friends decided to go to Sensation White in Germany. I went home after Christmas and while I was there I met Sara. We've been talking a lot the last couple of months and we both missed each other. She had visited my sister a lot lately as well, so it was natural that we met up. And you guessed it. We had sex. Again.
I practically lived at her place until I left for Germany.
And when I came back I had a surprise waiting for me. Sara told me she was pregnant.
I was in shock. I hadn't thought about parenthood too serious before that but now, put in the situation I realized that I wanted this. But things happen. And in the end Sara and I stopped talking again. And our relationship turned sour. And that how it was when I found out that you were moving too the same city I was in. I was overwhelmed with joy. But you had a boyfriend and I had just ended my relationship. There were so many complications. I was still living with my ex, we still had feelings for each other and there was no time for closure.
We met up a couple of times but just in the passing. But I've managed to tell you how I felt about you. And you seem to be in disbelief.
Your relationship ended.
We took a walk one day. We played in the snow. And on a swing. And I told you. All of it. All the time I've spent thinking it over. What I felt. And in the end we kissed. I loved that day.
One day you called me. You were a bit tipsy and wanted to see me so I came. And we walked. And talked. And just looked at each other. And as usual your eyes melted everything inside of me. And you smile was worth going thru the depths of hell for. And we kissed. And we just didn't seem to be able to stop kissing. The world was ours, the minutes was too short, the sweet agony of love. I wished that it would never end. But you had to go home, so I followed you to your door.
In the weeks that followed we talked and met up a couple of times more. Went out with each other. I met her friends. The people she lived with. And I realized that I couldn't share her. I wanted more than just being "friends." I couldn't just be her friend. I couldn't stand by and see other guys hit on her. And I knew that if I couldn't have her I couldn't be near her, for it was just too painful. It felt weird wanting something so badly. Like I was unintentionally choking her, limiting her interaction with others.
I told you this. How I felt. What I thought. What I wanted. And what I would have to do if we could not be. I think I scared you.
But in the end we ended up sleeping with each other. I wished it would had lasted forever. But it didn't. In the morning I followed you to your job. And we talked. Laughed. Smiled. And I cried inside because I knew that you weren't ready for a new relationship yet, not when your last one was still so fresh. And so I told you again what I felt. And then I kissed you for the last time. Said goodbye and left. I wanted to stop. But I continued to walk, I needed to leave you so you could be free. To choose. To feel.
To do the things you needed and not the things I wanted.
We stopped talking.
I can't remember anymore how long it took before I met you again. I remember that it was summertime. I was out with a couple of friend at the Opera, just taking a walk. We were actually talking about you when I thought I saw you on a distance. Your hair was everywhere. That's how I recognized you, by your hair. But while I was talking with my friends, you hid behind your friend and walked away. I didn't even see it. But my friends did.
Next time I saw you you tried to hide again. I couldn't understand why. We screamed at each other. Maybe not the best thing.
I met you about 6 months ago. On the tram. All of a sudden there you were. We said hi and then you went off. And it still hurt.
My body physically hurt 24/7 for over 6 months. You were my first thought when I woke up and my last thought before I fell asleep. You were in my dreams and constantly in my thoughts. I prayed everyday for it to disappear. Vanish. Be gone demon spawn. But off course it didn't. That's not how love works.
I couldn't even see a picture of you for over 1.5 year without a gaping hole of sorrow opening up in my soul. I still get you in my head when the thought of spending the rest of my life with someone comes up. I hate it. And I still think of you more than I'd like, but finally I think I'm letting go. I met you when I was 18. I'm 25 now.
It feels that it's about time now. I can see pictures of you now. For several minutes on end. And it doesn't even hurt that much anymore. I pray to God that you're happy in your relationship. That you're getting married soon. Maybe you already have. That you have children. Or children on the way. Anything that can separate the last bits of you from me. That's the impact you had on my life. Now somebody knows.
I needed to write it down. To tell myself. To tell others. I'm trying to let go of you. I can't honestly say if I love you. But.
I want to say it anyway. So here goes nothing.
Nike. I love you.
- A boy that's trying to move on...